Update: You can see Auburn's 2018 schedule right here.
For New Year's Day, Orange Is Our Color.
Auburn Athletics encourages fans to wear ORANGE to the Tigers' Peach Bowl game against Central Florida.
2017 SEC Championship Game
Auburn Athletics encourages fans to wear BLUE to Mercedes-Benz Stadium.
---
UPDATE: As of Wednesday morning, Auburn Athletics has not designated a color for the Alabama game.
If they do, this post will be updated.

---
Here are the dates for Auburn's 2017 All Auburn All Orange, Stripe the Stadium, Military Appreciation and True Blue games.
**UPDATE: Stripe the Stadium vs. Mississippi State**
Here's the map for what color to wear in what section.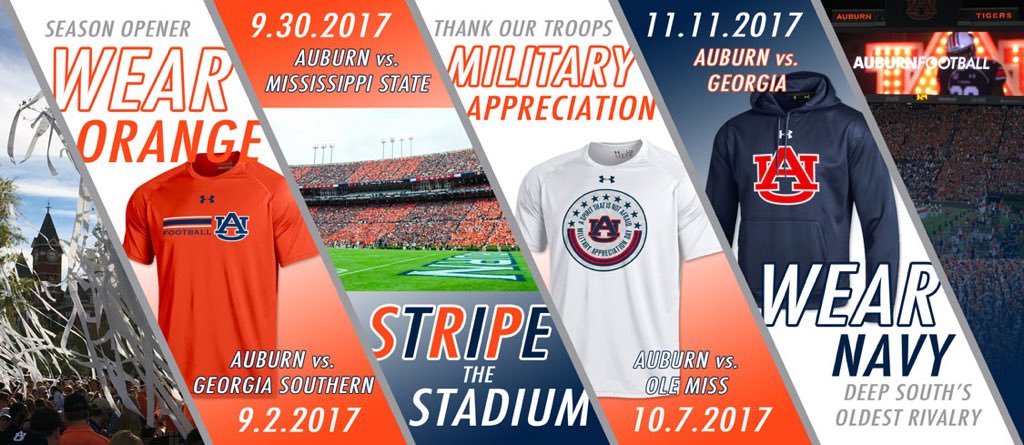 Wear Orange – Georgia Southern, September 2
Stripe the Stadium – Mississippi State, September 30
Military Appreciation – Ole Miss, October 7
True Blue – Georgia, November 11
Also, the 2017 Homecoming game will be against Mercer on September 16. There will also be an event that day recognizing the 125th anniversary of Auburn admitting women. And, fans will be allowed onto the field after the Mercer game.
The first thing that jumps out from these dates is that there's only one Wear Orange game. You may recall that last season three of the first four games were Orange, and the other one was Stripe the Stadium. So for some folks the first four games were Wear Orange. The students said that was too much.
If the Stripe the Stadium game flip-flops the sections again this year, the students will wear Navy this time.
Hopefully, in 2017 our Stripe the Stadium will be unlike both previous events, when we made pretty pictures, but lost the games (to Ole Miss in 2015; Texas A&M last year).
Also noticeable is that there's no designation for the Alabama game. There wasn't any prior to the season in 2015 either, but Navy was designated the week of the game.
The 2013 Alabama game was True Blue. The 2011 and 2009 games were both All Orange. As for 2007, well—everything was always orange in those days.
Another difference is that there isn't a color for the Military Appreciation game. Last year it was Wear Navy. The image above pushes a white shirt. I'd be surprised if that's the shirt, and it's pushed that way for the game. But, who knows—we did do white shirts for a basketball game last season.
A-Day is now behind us, and the seemingly slow train comin' is deceptively picking up speed. Whatever color socks you're wearing, hold on to them!
Latest posts by Josh Dowdy (see all)